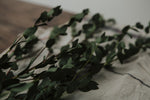 With Earth Day on the horizon, now is the time to discover new ways we can be kind to our planet. We've put together 10 ideas that will inspire you to form new habits, reduce your carbon footprint and restore our earth.
At Coromandel Coast, our focus is making coffee sustainable, traceable and delectable. But, on a trip to a local coffee shop, there are so many ways to make sustainable choices, besides where you decide to buy your flat white.
Fast Fashion
Before you set off on your coffee quest, the first sustainable switch can be made. Pay attention to what you are wearing and where you bought it from. The clothes you buy have a bigger impact on the planet than you might think. As well as the materials from which they are made, there are the employees who made them. Cultivating cotton with huge amounts of pesticides has a terrible impact on local ecosystems. Plus, cheap labour in developing countries means that fast fashion giants can afford to keep their prices so low.
If you bought your outfit from a fast fashion website, it is worth becoming aware of what you might be financing. Reducing the cash you inject into the fast fashion industry is an essential step in leading a sustainable lifestyle.
Another great thing you can do is explore the world of second-hand clothing. Giving pre-loved clothes a second chance is imperative since, in the UK alone, around 350,000 tonnes of clothing goes to landfill annually.
Beyond Retro and Re-Fashion sell second-hand, sometimes revamped, clothing, stopping perfectly good pieces from being thrown away.
While you are at it, why not have a browse of second-hand book shops? Lockdown is the perfect time to catch up on reading, but buying brand-new books is not always necessary. World of Books and Music Magpie are handy websites where you can buy used books that are often in great condition.
Renewable Energy
Turning off the heating before you leave the house leads us to the second switch. Where do your gas and electricity come from?
Companies such as Bulb, Octopus Energy and OVO make it easy to ensure your home runs on green energy. Bulb provides customers with electricity from renewable sources and carbon-neutral gas. They also offer paperless billing and competitive prices. Vote with your feet to let energy companies know you care about sustainability.
Shop Small and Local
The next switch involves examining your general shopping habits.
Buying everything from the supermarket is convenient, but buying goods from small businesses could be more sustainable. Firstly, contributing to your local economy promotes sustainable economic growth in your community. Also, walking to your local shops means you emit 0% of the greenhouse gases released by driving to the supermarket. Finally, you improve the sense of local community - something which is very important in these challenging times.
Also, check if there is a zero-waste shop in your local area.
Zero-waste shops are packaging-free, buying food in bulk and selling them to environmentally conscious customers. Bringing your own containers is encouraged – any old jars or Tupperware will do. Visiting these shops is both practical and sustainable as you reduce plastic waste and can buy as much or as little as you need.
You can find a list of 100+ zero waste shops here. And if you are a South Londoner, come and take a look at what FILTR has to offer. We have a well-stocked refillery section packed with spice blends, soap, nuts and more.
Grow Your Own Produce
Growing your own food can be more than just a lock-down pastime. You can ensure your produce is organic and you reduce the amount of plastic packaging you buy. Plus, you can guarantee what you are eating is as fresh as it can be.
Or, if you do not have the time or space, be sure to eat what is in season. Here is a comprehensive list of what is seasonal each month. Also, try to buy fruit and veg which is as locally grown as possible. Instead of buying a supermarket's internationally sourced produce, seek out what is locally grown and sold.
Flying in foreign fruit and veg contributes unthinkable amounts of air pollution. So, the more you can reduce how far food has travelled to get to your plate, the better.
Sustainable Gifting
This step also links to shopping locally. While you are out and about, you might consider picking up a gift for a loved one. When you do, consider local and small businesses before resorting to mass-produced goods. Investing in your local economy is so important at the moment.
While you are at it, steer clear of traditional wrapping paper as this usually cannot be recycled. Instead, try Furoshiki, the Japanese art of fabric wrapping.  
Cleaning Products
Nowadays, with cleaning a top priority, why not pick up some sustainable products to sanitise your home?
Typically, we buy sprays and liquids whose packaging adds ridiculous amounts of plastic to the already mounting pile of waste we are creating. Now, we need a solution to this problem.
Eco cleaning brands, such as Method and Ecover, are easy to find. Instead of harsh chemicals like bleach, they use ingredients rigorously evaluated for health and environmental safety. Plus, their bottles are made of recycled plastic.
Or, if you want to keep as far away from plastic as possible, FILL offers the zero-waste solution of eco-cleaning products in refillable glass bottles. 
Sustainable Tourism
The ability to travel may seem like a distant memory but soon enough we will be able to plan holidays once again. When the time comes, looking at the Earth Changers' website is a great place to start. 
In recent years, tourism has become increasingly accessible. But how many people are conscious of the environment when choosing their next holiday destination?
It is possible to take a well-deserved trip away, while also making a positive social and environmental impact. For example, you could visit a resort in Costa Rica that provides tools for community beach clean-ups and funds conservation programmes. Two birds one stone!
Ethical Banking
How do you plan on paying for these things? The concept of ethical banking may sound like an oxymoron, but it is genuine and gaining popularity.
Triodos Bank, Ecology Building Society and The Co-operative Bank are ethical banks worth investigating. Triodos Bank has received awards for its investments in sustainable projects. Ecology Building Society focuses on building a sustainable future and invests in reducing carbon emissions. The Co-op actively supports businesses that positively impact the environment and the public. They all prioritise transparency for their customers, ensuring we know where our money is invested. Researching your bank's stance on ethics could prove helpful when deciding whether you should switch.
Emails
Did you know that every day we send 64 million unnecessary emails in the UK? The carbon footprint of IT is not to be ignored.
Sending emails requires a huge amount of electricity. Not only is energy required to type the email itself, but also to send it across networks and store it in the cloud. By reducing the number of 'Thank you' or 'Noted' emails you send, as well as unsubscribing from pointless mailing lists, you do your bit to save electricity.
Food Waste
2021 is the year to stop wasting food. Hopefully, panic buying has ceased for good, but regardless, it is always great to make the most of your fruit and veg.
For example, instead of throwing cauliflower leaves into the food waste bin, wash them and chop them up with the florets. They are great in curries, or you can roast them with any other vegetables. Also, broccoli stems are underrated. Chop the stalk into slices and stick them in a stir fry. Plus, have you thought about the possibilities of banana peel after baking yet another loaf of banana bread? Nadiya Hussain and Nigella Lawson have intriguing banana peel burger and curry recipes. It may sound strange, but why not give it a try?
Another chef worth investigating is Max La Manna: a vegan, zero-waste guru who intends to change the way we view leftovers. His website is full of innovative recipes and tips on living more sustainably.
Conclusion
To sum up:
Stop buying fast fashion 

Switch to a renewable energy company

Shop locally

Grow your own produce

Source sustainable gifts

Buy eco-friendly cleaning products

Switch to an ethical bank

Choose sustainable tourist destinations

Stop sending/receiving unnecessary emails

Avoid food waste
Being environmentally conscious always makes a positive impact. It is important to remember that perfection is not necessary. All of us have areas in which we can improve.
We hope you have discovered a new way to live sustainably today. What is the first switch you will be making?